Flights to kolkata
The city of Kolkata has a long, rich history that dates back 350 years. Moreover, it is renowned as the birthplace of modern Indian literary and artistic thought. Kolkata is also referred to as 'the city of joy.'
As a tourist destination, the city offers delectable street food, famous landmarks, and buildings of historical importance. Besides the popular ghats, there are many points of interest within the city.
Tourist Destinations in Kolkata
Victoria Memorial
It is located in the heart of Kolkata and is a white marbled opulent structure. This is an iconic structure that matches the beauty of this city of joy. The monument has lush greenery and beautifully managed gardens surrounding it. Also, a sound and light show is organized in the complex to add to its beauty and make it a famous tourist destination of the place.
Howrah Bridge
This is a massive steel bridge that is constructed over the river Hooghly. The bridge comes alive in the night when it is all lit up to attract tourists. Tourists can take a ferry ride that runs between Kolkata and Howrah from the Launch Gate. The bridge has a total of eight lanes for pedestrians, bicycles, heavy vehicles.
Fort William
This magnificent structure is spread over 70.9 acres of land and has hundreds of arched windows, giving a view of lush green gardens. This is a property of the Indian Army and can accommodate up to 10,000 army personnel. The palace can be visited for its stunning architecture.
Birla Planetarium
This planetarium holds many shows and programs in various languages that include Hindi, English, Bengali, and other regional languages. It is one of the three planetariums in the country. Moreover, the building has an electronics library and an astronomy gallery that displays astronomical models and paintings.
Netaji Subhash Chandra Bose International Airport
Spread over an area of 2,460 acres, the Kolkata Airport is the largest East Indian hub for air transportation. It is the fifth busiest airport in terms of passenger traffic. The airport is advanced and well-equipped with solar-powered panels.
Flights to Kolkata Airport connect the city to all the major domestic and international destinations. The new terminal commenced operation in the year 2013 for which it won the award for the 'Best Improved Airport' in the Asia-Pacific region by the Airport Council International.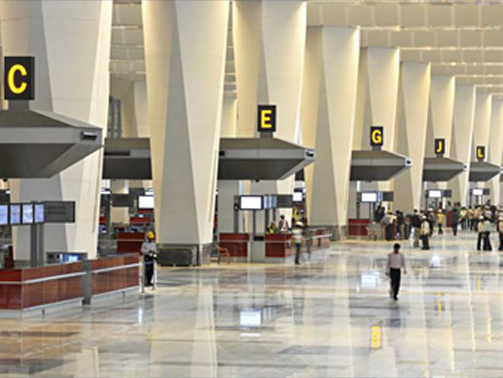 Facilities
Lounge
Wi-Fi
F&B Outlets
Duty-Free Shops
Telecommunication
Transportation
Child Care Rooms
ATM
Medical Assistance