Flights to hyderabad
Hyderabad depicts the co-existence of the old-world charm with the noisy bazaars lined parallel to each other. The place is a worth visit destination, not once, but multiple times. The place is a home for the most iconic landmarks, the Charminar, that is a beauty in itself.
With the area swarmed with bazaars, stalls, tasty biryanis, and authentic pearls, book flights to Hyderabad to enjoy the thrilling city life in the pubs and explore the rich cultural heritage, all at one place. 
Tourist Destinations in Hyderabad
Ramoji Film City
It is a perfect place for all cinema lovers. The film city is spread over an area of 2500 acres and is recorded in the Guinness World Record as the largest film complex in the world. The place has multiple shooting locations from airports, railway stations, and gardens to hospitals, landscapes, and laboratories. You can be sure of a day full of all the fun and excitement at this fun-filled location.
Charminar
Charminar is located right near the heart of Hyderabad erected by the Quli Qutub Shah to signify the founding of Hyderabad. The monument is a massive structure with four pillars as four Khalifas of Islam. This Charminar, along with Qutub Shah tombs, has been added to the tentative list of UNESCO World Heritage Sites.
Salar Jung Museum
The museum is among the largest museums in the country, covering the area of 10 acres and having two floors. The museum has a beautiful art collection in the form of various paintings, carvings, artifacts, and sculptures. The museum also houses a library with more than sixty thousand books and almost eight thousand rare manuscripts.
Golconda Fort
This is one of the best preserved monuments in the region. The fort is one of the most visited places in Hyderabad with its astonishing history, surprising mystery, and marvelous architecture. The fort hosts a beautiful light and sound show that attracts many tourists.
Rajiv Gandhi International Airport
Rajiv Gandhi Internatiomal Airport is the eighth busiest airport in the country and serves Blue Dart Aviation, Lufthansa cargo, Quikjet cargo, TruJet, and Alliance Air (India). The airport has a single terminal operation with 92-check-in counters, an airport village that is located close to the arrival hall, and various food and beverages counter to cater to your taste buds.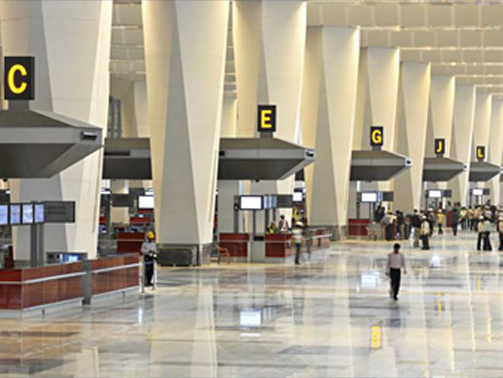 Facilities
Shops and Duty-Free
Prayer rooms
Wheelchairs
Childcare rooms
Lost and Found Counter
Medi-care
Wi-Fi facility
Smoking room
Airport Village
Transit Hotel