Flights to chennai
Chennai is one of the four metropolitans of the country from ancient times. When you book flights to Chennai, you can enjoy the view of British era museums, monuments, various culinary delights, and Marina Beach.
The Skyline in Chennai is famous for its towering skyscrapers, which coexists harmonically with the old world charm of the place. The areas around the Triplicane and Mylapore are renowned for their beautiful temples and delicious cuisines that cannot be missed.
Tourist Destinations in Chennai
Marina Beach
Marina beach is an urban beach along the Bay of Bengal. This beach stretches out at a distance of 13 kilometers and can be termed as the longest natural urban beach in the country. You can enjoy a leisurely walk along the beach and enjoy the cool evening breeze. The view of the area is enchanting and awe-striking.
MGR Film City
The monument is taken care of by the Government of Tamil Nadu in the memory of MG Ramachandran. He was an actor and also the CM of Tamil Nadu. It is a famous tourist attraction and a place for many of the directors from South India.
The Film city has a film school, temple, church, shooting locations at both the indoor as well as the outdoors, a prison, a courtroom, and every place that can be used for the shooting purpose.
Marundeeswarar Temple
It is a temple of Lord Shiva depicted in the form of Marundeeswar. For all those visiting Chennai, this temple is a must-visit destination. Also, the place has a special belief among the people who are suffering with any ailment or have some of the other health issues. You must book flights to Chennai to experience the miraculous power the temple is believed to possess.
Valluvar Kottam
It is a monument that resembles a temple-chariot. It is a famous tourist destination and also is a host for many exhibitions and events in the city. The auditorium here is used to host various handlooms and handicraft related exhibitions, and one can visit the place to admire the artistic beauty of the interior as well as the exterior.
Chennai International Airport
The Chennai International Airport is the fourth busiest airport in terms of passenger traffic for both the domestic as well as international flights. Around 400 aircraft arrive and depart from the airport on a daily basis. Out of the 20 million passengers traveling through the airport annually, one-quarter of them are international travelers. The airport is a hub for airlines like IndiGo, Blue Dart Aviation, Spice Jet, Air India, Air India Express, and GoAir.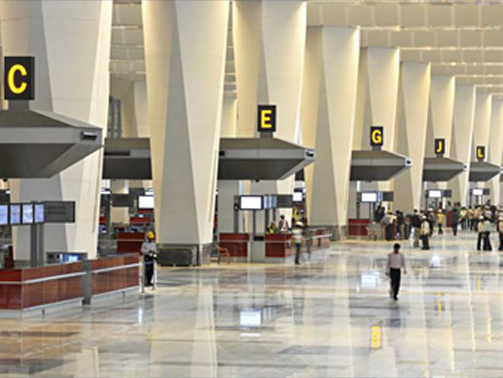 Facilities
Currency Exchange
Duty-Free Shops
Conference Rooms
Prayer Rooms
Medical and Health Facilities
Lost and Found Counter
Child Care Room
Smoking Areas
Free Wi-Fi
ATMs