Flights to ahmedabad
Ahmedabad is one of the most important cities in Gujarat, as it is an educational hotspot, an educational hub, and a city of rich and diversified past. The place has turned out to be a rapidly growing tourist destination because of its delicious food and colorful culture. The older part of the city has been declared as a UNESCO World Heritage Site.
When you book flights to Ahmedabad, you will observe its rich textile and tie-dye bandhani handloom techniques that are used for creating unusual clothing patterns. Shop and collect memories to take back after a happening vacation in India.
Tourist Destinations in Ahmedabad
Swaminarayan Temple, Ahmedabad
The temple is a shrine that is dedicated to Narayan Dev. The temple depicts the architectural marvels of the nineteenth century with the decoration and colors and intricate carvings. The main area of the temple is spread over a very vast area and gives a marvelous sight for the viewers. The temple attracts many tourists on Diwali for Darshan.
Sabarmati Ashram
This is the most prominent tourist attraction as it was the residence of Mahatma Gandhi and his wife, Kasturba. The government of India has recognized the place as a national monument. This Gandhi Ashram has other buildings and sites like Vinoba Kutir, Magan Niwas, Upasana Mandir, and Nandini. These buildings are named after the people who were in close relations with Gandhi Ji.
Jama Masjid
It is one of the largest mosques in the country. Other than being a revered shrine, the place also houses the tombs of Ahmed Shah I, his son, and also his grandson, along with the tombs of other kings and queens. The monument is designed in a unique meshwork pattern in the main prayer hall that helps in the illumination of the room without any direct sunlight.
Gujarat Science City
It is an initiative taken by the government of Gujarat to spread general knowledge about the scientific temperament among the youth of the country. The science city is spread in an area of 107 hectares and is a tourist attraction as it hosts various talk shows and workshops for students.
Sardar Vallabhbhai Patel International Airport
Sardar Vallabhbhai Patel International Airport serves Ahmedabad and Gandhinagar in Gujarat. The airport is declared as the seventh busiest airport in the country, handling 11.17 billion passengers in the fiscal year 2018-2019. The airport has also been awarded as the most important airport in the Asia-Pacific region by the Airports Council International for the year 2017.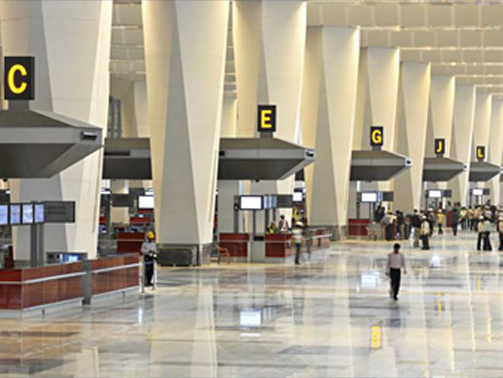 Facilities
Currency Exchange
Child Care
Shops
Luggage Services
Restaurants
Cafeteria
Internet Connectivity
Shops and Duty-Free
Lounges: BICA and Port