Flights to Chandigarh
Amongst the cleanest, greenest, and best-planned cities in the world, Chandigarh serves as the capital of Indian States, Punjab, and Haryana.
The environment is the perfect blend of well-preserved traditions and modernity.
Chandigarh is amongst the most liveable cities across the world. As a tourist destination, it has a laidback yet lively city-vibe unlike any.
Located at the Shivalik foothills, the City Beautiful is home to some of the most iconic landmarks. Book your flights to Chandigarh to visit them all!
Popular Tourist Destinations
Rock Garden
One of them is the Rock Garden. Masterminded by Nek Chand Saini, the garden is entirely composed of screws, bolts, industrial and urban waste recycled as sculptures, and other pieces of art. The 40-acre garden has interlinking waterfalls and even a dolls' museum.
Capitol Complex
On the other hand, the UNESCO World Heritage Site, Chandigarh Capitol, aptly captures the essence of the city's urban architecture.
Sukhna Lake
Located near the Rock Garden, the manmade lake attracts tourists and locals alike. Enjoy the long walk along the pristine lake, boat, eat, and engage in other tourist activities at the Sukhna Lake.
International Dolls' Museum
Witness India in a glance at the International Dolls' Museum! The marvelous display of Indian culture across different states is exhibited through artistic dolls. Moreover, the collection comprises dolls from 25 different countries collected over the years since 1985.
Chandigarh Airport Information
The recipient of the 2019 Airport service and quality award for 'Best Environment and Ambience by size,' Chandigarh Airport's floral decor gives you a botanical garden-like feel.
The ground level is allocated for arrivals, whereas departures are on the first floor. The terminal has four aerobridges.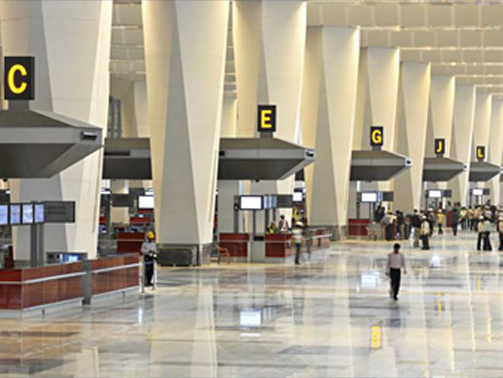 Facilities
Eco-Friendly Terminal
F&B Outlets
Currency Exchange
ATM Facility
Air-Conditioned Lounge
First Aid and Baby Rooms
LCD
Bar and Restaurants
Taxi, Bus, and Transportation
Duty-Free Shops
Parking Space
Canteen
Telecommunication
Lost & Found Baggage