Flights to Bhopal
You will find numerous artificial lakes in this City of Lakes. Visit Bhopal to experience the beautiful blend of the past and the present, the old and the new, and the rustic and the classy. You will love to see the perfect combination of heritage, culture, and modernity that this city offers. Further, you can find many majestic mosques here. They all are a great example of the classic Mughal architecture.
Taj-Ul-Masjid is one of these and is also the largest in the country. The third female ruler of Bhopal – Shah Jahan Begum built it. Another great example is the Moti Masjid. What's more, you can get to see breathtaking Havelis and many museums here. The Nawabi food that you will get here is an utter delight for foodies. To enjoy it, all you have to do is to book flights to Bhopal for you and your family.
Popular Tourist Destinations
Upper Lake
The Bhojtal/the upper lake is the most significant lake in the city. This human-made lake is very old and you can find it on the west of Bhopal. Also, it is locally known as Bada Talab. The residents of the city obtain their water requirements from this source.
Lower Lake
This Chhota Talab is separated from the Upper Lake by an over-bridge. It is known as the Pul Pukhta or Lower Lake Bridge. This tranquil, charming, and peaceful place is sure to leave you mesmerized.
Jama Masjid
It is one of the largest mosques in the country. Other than being a revered shrine, the place also houses the tombs of Ahmed Shah I, his son, and also his grandson, along with the tombs of other kings and queens. The monument is designed in a unique meshwork pattern in the main prayer hall that helps in the illumination of the room without any direct sunlight.
Van Vihar
This Zoological Space and National Park is a must-visit place for all nature enthusiasts. You are sure to find abundant flora and fauna here that will leave you awe-struck.
Indira Gandhi Rashtriya Manav Sangrahalaya
You can find this national museum of Anthropology on the Shamla Hills. It is a great place to visit to see the evolution of humankind. The painted rock shelters here are the most famous attraction of this place.
Bhimbetka Rock Shelters
This world heritage site houses many old cave paintings. All history-enthusiasts must visit it to have a sneak peek of the pre-historic era.
Gohar Mahal
Gohar Begum constructed this beautiful place. This structure has a fantastic blend of Mughal and Hindu styles of architecture.
Raja Bhoj Airport Information
This is the primary airport that serves Bhopal in Madhya Pradesh. This airport in the Gandhi Nagar area is the second busiest airport in the state. The first one is the Devi Ahilya Bai Holkar Airport in Indore. Also, it gets its name from the 10th century Paramara king.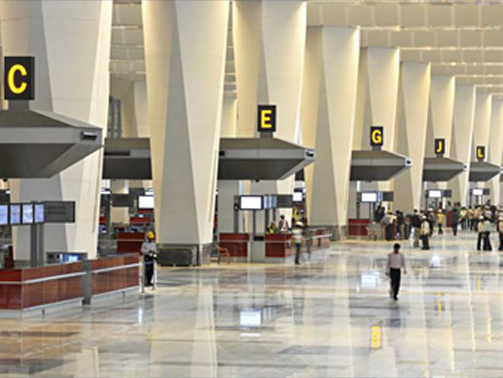 Facilities
Foreign Currency Exchange
ATM Facility
First Aid and Baby Rooms
Restaurants
Duty-Free Shops
Rest Rooms
Lost and Found Office
Wi-Fi Access
Car Parking
Car Rental