7 Mesmerising destinations for a vacation like never before in Sikkim
Sikkim is the paradise snuggled in the North-East part of India with magnetic views of the great Himalayas. Every bit of this state is decked with verdant landscapes, majestic hills, serenity, snow-capped mountains, and a lot more. If you have never thought about exploring the beauty of this splendid state then you are missing something really exquisite. Even the small towns and villages in this northeastern state have a generous amount of beauty to offer. Book your affordable US to India flight tickets with Airfarebooking and explore some really impressive hospitality of Sikkim. 
Given below is a well-designed list of places you can visit during your trip to Sikkim
Gangtok
This state's capital, Gangtok, is known for its beauty and deserves to be one of the most prominent cities. Sikkim is blessed with the historic and cultural significance Gangtok adds to its pride. While exploring Sikkim you must land to Gangtok and catch the majestic glimpses of Mt. Kanchenjunga. Gangtok is also considered to be one of the most beautiful hill stations in India. This city is a proper blend of cultural, modernization, and scenic beauty. There are so many adventures to explore in Gangtok that you can never get full of it. You can visit Ganesh Tok, Enchey Monastery, Tashi Viewpoint, etc. for a place to catch the areal view of the city.
Nathula Pass
Nathula pass is 53 KM away from the state's capital city. Nathula pass connects India with Tibet so there is a union of Tibetian and Indian culture around the place which politically makes it a very important point of Sikkim. In Nathula pass there is a very famous border trade market known as Sherathang from where you can purchase sovereigns for your friends and family. From this vibrant market, you can even buy Tibetian items for yourself. Nearby to Nathula pass, there is a place called Kupup which is always under the cloud, and visiting it is going to be a unique experience for your vacations in Sikkim. 
Tsomgo Lake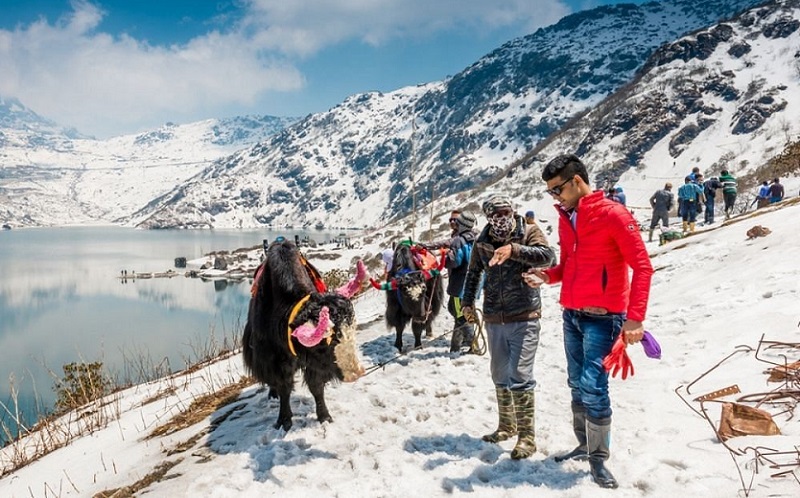 Tsomgo Lake is around 40 KM away from Gangtok. Tsomgo means 'Source of Water' and this immensely beautiful glacier lake is one of the most famous tourist destinations of Sikkim. This lake is one of India's highest altitude lakes and reflects the enormous views of snow-clad mountains around it.  It is always advised to plan your trip to Tsogmo Lake during the early morning because it gets dark very soon and roads are not laid out properly. This lake is just a 2-hour drive away from Gangtok which makes it easily accessible in time to enjoy the exciting experience around the lake. Now you can find affordable business class travel deals on airfarebooking.com and visit Sikkim without any worries of overpaying on your flight tickets anymore.
Kanchenjunga Base Camp
Traveling is the most befitting way of cultural exchange. Things you get to know about new culture via traveling can never be taught by any book. If you want to relish the true essence of Sikkim Culture then Kanchenjunga Base Camp is one of the best ways to do so. Kanchenjunga is the world's third-highest peak and camping at the base of this potent mountain can surely give you a lot of experience and a thing to brag about. This trek starts from Dzongri which is the last road around this peak. Adventure junkies are going to love this thrilling base camp experience which is lodged so close to India-China borders.
Pelling
After Gangtok, Pelling is the second most favorite tourist spot in Sikkim. It is surrounded by gigantic views and coaxes thousands of tourists every year who seek peace in nature's lap. This town is a true paradise for peace seekers and trekkers. It is just 131 Km away from Gangtok and 73 Km from Darjeeling so you can easily reach Peiling from other major attractions of the state. The best time to visit this beautiful city is between the months of December and May. During this time you can enjoy the winter, summer, and spring seasons in this enticing town. Book cheap flights to India from US with airfarebooking.com and never miss the chance to enjoy lip-smacking North-Eastern food in Pelling. 
Zuluk
Zuluk holds the power to mesmerize its visitors with astonishing views of mountains so it is one of the best offbeat locations to visit in Sikkim. There is a unique and pristine temple named Nag temple which is dedicated to Nag Devta (Snake God), it is shaped like a cave that feels like entering into a snake hole. Whenever you visit Sikkim make sure this scenic and bewildering town comes on your list. Thambi View Point and snow-clad Mt. Kanchenjunga are other major attractions that are visited by most travelers landing in Zuluk.
Gurudongmar Lake
The bright turquoise tint of Gurudongar lake along with the vibrant culture of North-East makes it one of the best places to visit in Sikkim. This tranquil lake is situated at an altitude of 17,800 ft. and the most attractive property of this alluring lake is that it is also considered holy. Not just by one religion but three – Sikhs, Hindus, and Buddhists. Blue sheep and yaks are some rare species of fauna that can only be found in some particular places of Sikkim. 
Now you are familiar with some really amazing and interesting places to visit in Sikkim for a vacation experience like never before. Book your last minute flights from US to India with Airfarebooking and enjoy your trip in Incredible India.
Also Read: Best places in Leh Ladakh to explore in this summer holidays