Culinary Delights: 6 Life-Changing Food Experiences in India
India is a nation with many different civilizations, and these cultures have played a significant role in the cuisine that its citizens choose. Indian spices pervaded the entire subcontinent like curry on a dish. There is a broad variety of food available here, with flavors and ingredients that cross international borders. Presidents and famous people alike have savored Indian cuisine's iconic dishes and it's your time now. Here we are bringing you the 6 Life-Changing Food Experiences in India that you absolutely must not miss. Additionally, you can visit Airfarebooking to book cheap international flights from US to India.
Indulge in Exquisite Nawabi Treats in Lucknow
In the capital of Uttar Pradesh, the delicate, light galouti kebabs with a consistency similar to pate are well-known. Legend has it that the dish was initially created to placate a nawab (chief) who enjoyed food but was unable to chew owing to tooth loss in his middle years. They were possibly blessed delicacies prepared for toothless, old pilgrims traveling to Kakori, a tiny town close to Lucknow, to visit a Sufi shrine for amazing food experiences.
You can try them at Tunday Kababi, a charming restaurant that has catered to a sophisticated, devoted clientele for three generations on the steps of the Akbari Mosque. In the winter, street vendors provide nimish, a unique foamy delicacy made with seductive milk foam.
Delicious Street Food Along the Scenic Riverbanks of Varanasi
It's time to enjoy a moving feast of numerous savory dishes and desserts while the bajra, a big boat with a flat deck, leisurely floats along the Ganges. As the sun sets over the river, Deena Chat Bhandar serves a delectable array of expertly spiced appetizers that are prepared in front of your eyes and accompanied by sweet-and-sour chutneys.
The following morning, explore the breakfast stalls in Lanka, a neighborhood close to Banaras Hindu University. Spend money on kachori, a smaller, flakier deep-fried puri filled with sweet green peas, bedwi puri, a wholewheat bread packed with a thin layer of spicy lentil paste, and lassi, an Indian milkshake made with thick, naturally sweet curd, clotted cream, reduced milk, and sugar. The Pahalwans stand has all of these sweets for sale. Bedwi and kachori are served with either a sweet-and-sour chutney or a potato/pumpkin curry.
Experience the Royal Flavors of Awadhi Treats in Delhi
The capital of India, Delhi, is multi-layered and a city where numerous eras and ages coexist. It boasts monuments and delectable delicacies dating back to the creation of Shahjahanabad (now Old Delhi), a walled city completed for the Mughal Emperor Shah Jahan in 1648 (as well as New Delhi erected during the British colonial era).
The ITC Maurya Hotel's Bukhara restaurant is famous for its eponymously titled bukhara raan and daal (spiced leg of lamb with black bean daal). The same hotel serves the best Awadhi cuisine, which was the cuisine of the region where hedonistic nawabs (leaders) reigned before the British defeated and expelled them in 1857. Try the melt-in-your-mouth kakori kebab (minced lamb kebab) at Dum Pukht.
Next door at the New Jawahar (on Gali Kababyan), they serve a seductive chicken ishtu. The English "stew" influenced it, and it is a slow-cooked dish with twice as many onions as beef, allowing the meat to simmer in its own juices.  It is flavorful without being very hot thanks to red dried whole chilies. So what are you still waiting for? Book online flight tickets from US to Delhi with Airfarebooking now.
Visit Hyderabad for Aromatic Biryanis and Pathar Kebabs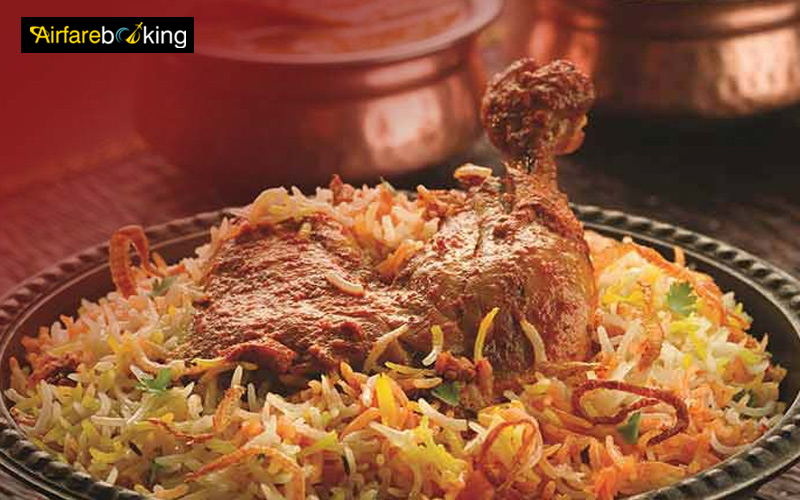 Hyderabad, a city foodies must visit, produces the best biryani in the world. Moreover, the Bismillah Hotel, located near the Mecca Masjid, prepares a delightful dum ki biryani. Alternating layers of meat and saffron-seasoned rice characterize this dish, and cooks prepare it in clay pots over a low fire with a variety of enticing spices.
Hotel Shadab serves the best Khubani ka meetha, a treat made with dried apricots and served with fresh clotted cream. Furthermore, the Deccan, a huge plateau in southern India, doesn't have any apricot trees, and historically, only the elite had access to dried apricots. Consequently, these facts make it unusual. Moreover, its gorgeous hue, delicate texture, and subdued sweet-and-sour flavor make it unique.
Find a Vegetarian Paradise in Chennai
People in Southern India know plant-based snacks, mild lentil soups made with coconut milk, and vegetable gravies (curry sauces) that frequently include tamarind undertones. Roadside cafés like Murugan Idli are hygienic and virtually always provide the best-quality crisp or spongey pancakes, and dosai, accompanied by varied chutney and occasionally with a stuffing of spicy potatoes. Idlis are savory rice cakes.
At Dasa Prakash and Hotel Saravana Bhavan, one can combine a range of poriyals and kozhambus. Additionally, these options include lentil-based sambaar stew, tamarind- or tomato-flavored rassam soup, and more.
Savor the Enchanting Tastes of Bengal Kolkata Cuisine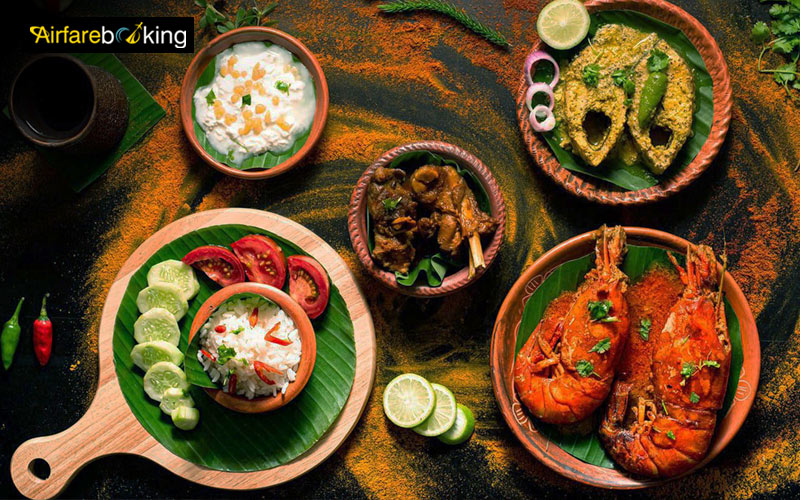 Bengal, which included Bihar and stretched from Assam to Odisha (Orissa), was originally the largest province in British India. Moreover, Bengal's cuisine has incorporated a bewildering variety of influences.
In the heart of Kolkata, at 6 Ballygunge Place, there is a veritable gold mine of culinary gems, including hilsa (a type of fish) and machher cutlet. Furthermore, the restaurant is located inside a restored haweli, an aristocratic palace, and there are numerous treasures to discover and enhance your food experiences. Envision doi murgi, an enchanting improvisation on the traditional doi maach (fish cooked in yogurt), which substitutes chicken for fish and prawns, and serves it in a soft coconut shell. They make Bhetki gravy with fish fillets from one of Bengal's favorite fishes, and this "jhal" rendering is thick and pungent.
So, which one of these flavors would you like to savor first? Book flight tickets from US to Bangalore with Airfarebooking and take your taste buds on a gourmet tour across India to enjoy memorable Food experiences that will change your life.