7 Essential Tips for Solo Female Travelers Exploring India
Solo female travelers in India? Despite the fact that it may seem chaotic at first, embarking on a solo adventure as a female traveler in India can be an exhilarating and transformative experience. Along with people from your own country, you have the opportunity to interact with people from many different backgrounds. However, for a sole female traveler, it is important to approach this journey mindfully and preparedly because traveling through a diverse and large country can present unique challenges.
India can be rather overwhelming for female travelers traveling alone in the country. But if you are ready and have the right information, visiting this intriguing and diverse country will be a genuinely rewarding experience. So for all, you ladies who want to wing it while you travel alone, get ready to book international flight tickets from US to India and check out these 7 essential tips for solo female travelers exploring India.
1. Do Your Research
Fear-mongering in the media contributes to the continued negative perception of India, even though it isn't really true. India is modernizing, and many areas of the nation are secure and welcoming to visitors, especially women.
However, it is highly recommended that you research the region ahead and learn about its culture, traditions, and customs. Also, bear in mind that India is incredibly diverse, so wherever you travel, you should be respectful of the local traditions.
Read blogs, travel manuals, and internet forums written by other lone female travelers to learn more about India. Make a list of the locations that are ideal for single travelers, then go there.
2. Keep Someone You Trust Informed During The Trip
The biggest mistake you can make when traveling alone is to not inform your family and friends of the intricate details of your trip. Share details with them, such as the location of the hotel you'll be staying at and the bus or taxi company you'll be utilizing.
When you book Last Minute Flights from US to India make sure to update your loved ones on your whereabouts while traveling so they can track your progress. All of this will help you stay out of any tricky situations you might encounter while traveling alone.
3. Be Careful and Not Freaful
As a female traveler alone, you would probably be expected to present yourself as courteous and responsible. And sure making new acquaintances and striking up conversations with locals and other travelers will be made easier if you are polite. But, that doesn't mean, that you have to agree with everything you see and hear. In this situation, confidence is crucial.
Wearing your confidence on your sleeve will make you less likely to attract unwanted attention or strange creeps while traveling. You must completely rely on yourself and learn from your brief experiences if you want to develop confidence as you start to trust your intuition.
4. Respect Regional Traditions When it Comes to Clothing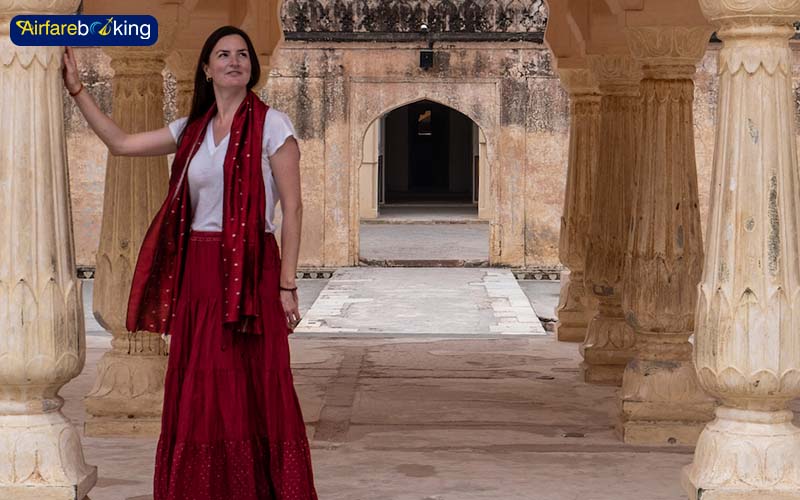 India is a country where conservative and liberal ideas coexist, and regional differences in women's wear are common.
It is advisable to follow local fashion cues and wear appropriate attire. It is advised to dress appropriately and pay attention to local fashion cues. People have more freedom to choose what they want to wear in urban areas like Mumbai, Delhi, Bangalore, and Goa. It is usually acceptable to show shoulders, arms, and legs in major cities.
In traditional areas like Rajasthan and other smaller towns and villages, modest clothes will avoid unwanted attention and potential advances. Avoid body-hugging attire, plunging necklines, tank tops, and short skirts in the smaller towns and villages. Wear kurtis, leggings, long, loose slacks, and t-shirts to cover your shoulders, legs, and arms. Dressing as the natives do sends a message that you respect and are willing to accept their culture.
Additionally, you should always wear a scarf to cover your head when entering places of worship.
5. Choose Your Accommodation Carefully
Make sure to reserve accommodation in advance. There are many guesthouses all across the country that are not only pleasant, affordable, and safe but also make it easy to meet other tourists and swap travel stories.
If a hotel is your chosen lodging option, make a reservation through a trusted travel website. On apps like Hotels.com and TripAdvisor.com, you can find hotels all around the nation. Additionally, if you are seeking cheap international flights from US to India, opt for the best travel website, Airfarebooking.
6. Try to Use Public Transport
Using public transportation and living the fantasy traveler life while meeting new people on buses, trains and planes are one of the nicest parts of traveling. Public transit is not only the ideal way to meet other travelers, but it's also practical, relatively safe, simple to choose from, and obviously very affordable! Additionally, being around other people can always make it easier to escape anxiety and uncomfortable situations.
Naturally, it's important to rely on your own judgment, and you should make every effort to avoid being out alone at night. However, whenever possible, choose public transit to ensure a smooth and secure journey.
7. Get a Local Simcard
A local sim card is very useful in India. Reserving OLA cabs is a good idea, as is avoiding tuk-tuk detours, verifying the station from which your train departs, and, if required, calling a friend to loudly repeat a taxi driver's license plate to them (so the driver can hear you). If your phone is locked, think about getting a cheap unlocked phone to use in India. The airport where Airtel has booths in the international arrivals section (for eg. at international flights from US to India section) of Delhi Airport and a few other airports is the fastest way to get a sim card.
In Conclusion
Are you hesitant to travel alone? This is one of the irksome questions that people have for women who decide to travel alone. Yes, traveling alone can initially seem like a difficult and frightening idea, especially in a multicultural nation like India.
But going solo is more than simply an adventure; it's a chance to rethink your perspective and make friends not just with other travelers but also with yourself. It's a route of self-discovery that provides a consistent way for you to unwrap the world according to your rules.  Additionally, you can visit Tripbeam to book affordable flight tickets to India from USA and follow these 7 essential tips for solo female travelers exploring India.
Also Read: 7 Fascinating Places to Visit in India Before You Turn 30