9 Top Durga Puja Destinations in India
The Navratri season is about to kick-off soon in India. So, get ready to worship Goddess Durga and her manifestations. Also, since India is multi-cultural, all states have diverse rituals, traditions, practices, and paraphernalia to worship this divine power. What's more, cheap flights to New Delhi and other Indian Destinations are readily available these days.
Here is a list of the top Indian destinations that celebrate Durga Puja gloriously.
1.Uttar Pradesh and Bihar
Both the states – Uttar Pradesh and Bihar celebrate Durga Puja quite similarly. These striking similarities include feeding little girls. People do this on the final day of Navratri.
Also, the people over here worship Goddess Durga in holy shrines. Further, the locals also set up an altar of the deity. They also recite the famous religious text of Durga Saptashati.
Must-Visit Temples: Maa Vindhyavasini Mandir/Vindhyachal Dham in Mirzapur, Maa Mundeshwari in Kaura, and Maa Annapurna Temple in Varanasi.
2.West Bengal and Assam
These two states of India celebrate Navratri in a similar and grand manner. They both worship Goddess Durga correspondingly.
When you book flights to Kolkata, you are sure to experience beautiful and grand pandals. Also, these follow different themes. Further, these enshrine stunning idols of Durga, Saraswati, Lakshmi, Ganesha, and Kartikeya.
Also, you will find priests at every pandal and temple.
They perform all the traditions as per the holy scriptures of Hindus. Moreover, they perform this for a period of four days. On the day of Dussehra – Dashami, the people bid the Devi farewell. This is done with utmost joy and in a grand manner.
Must-Visit Temples: Dakshineshwar Kali in Kolkata and Kamakhya Devi in Guwahati.
3.Gujarat
If you want to experience the Garba Mahotsav, Gujarat is the place for you. The devotees here celebrate this Navratri festival by performing a famous traditional dance form. It is called Garba.
Also, they observe fasts. Further, people conclude the worship by feeding and gifting young girls. They do this on the ninth day of Navratri. Also, do not miss the evening aarti. This is done using an earthen pot (Garbi) and diyas. We are confident that you will love this unique style of worship after you book flights to Ahmedabad.
Must-Visit Temples: Amba Devi Temple in Bhavnagar.
4.Punjab
The Punjabis celebrate every festival grandly and with utmost joy. Similarly, they are very attached to Durga worship. They do this during the Navratri season.
For the first seven or eight days of Navratri, people observe fasts over here. Also, on all the nine evenings, jagrans are held. These take place in almost all the temples.
On Ashtami (eighth day) or Navami (ninth day), people perform Kanya Puja. They invite young girls aged 5 to 10 and feed them. Also, they give gifts and money to them.
Furthermore, you can pay tribute to the Bara Hanuman Mandir in Amritsar. All you need to do is to find a low-priced flight to India. People make a wish here to have a male progeny. Then, when this becomes true, they visit this holy place.
Also, they bring along their son. Moreover, they dress them as a langoor (monkey). Devotees do this to thank the deity.
Must-Visit Temples: Bara Hanuman Mandir and Mata Longawali Temple in Amritsar, Mansa Devi Temple, and Chandi Devi Temple in Chandigarh.
5.Maharashtra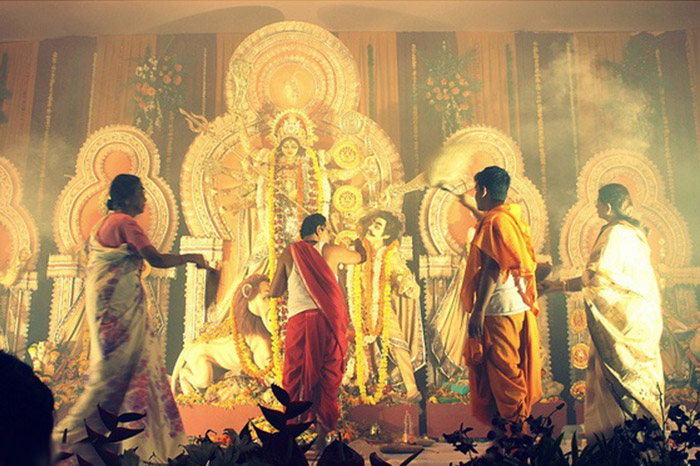 Just like Gujarat, Maharashtra celebrates Navratri with dandiya too. Men and women sway to the beats of dhol and foot-thumping music.
Also, on Dussehra (Vijay Dashami), people burn the figures of Ravana, Meghnad, and Kumbhkaran. They do this to show the victory of good over evil.
Further, married women apply Haldi-kumkum (turmeric and vermillion) on each other's forehead. They do this to exchange Navratri greetings. During the festive season, people buy properties. Also, they make all the critical business decisions.
Must-Visit Temples: Mumba Devi Temple in Mumbai, Saptshrungi Devi in Saptshrungi, Nashik, and Vajreshwari Devi in Vajreshwari (75 km away from Mumbai).
Book flights to Mumbai and enjoy this festive season in the Indian subcontinent.
6.Himachal Pradesh
If you want to visit a lot of Devi Temples, Himachal is a perfect place for you. Also, the ideal time to visit this place is the Navratri season.
Here, people worship Lord Raghunath (Lord Rama). They do this along with other Gods for nine days. Besides, they perform this at the Dhalpur Maidan which is in the Kullu Valley. Therefore, the tenth day is also known as the Kullu Dussehra.
Also, on this day Lankadehen is done. People burn dry wood and grass on the bank of River Beas. This personifies the destruction of Lanka (the place over which Ravana ruled).
Must-Visit Temples: Naina Devi, Chintpurni Devi, Jwala Devi, Bajreshwarai Devi, and Tara Devi.
7.Tamil Nadu
The people in Tamil Nadu worship three Goddesses. They are Durga, Lakshmi, and Saraswati. Also, they invite their relatives' home. Then, they exchange gifts with them.
Furthermore, you cannot miss out on the ritual of Golu. It is a fascinating tradition. During it, women and young girls exhibit dolls on a wooden pavilion. What's more interesting is that these dolls can be many generations old. Interesting, isn't it?
Must-Visit Temples: Muppandhal Devi Temple in Aralvaimozhi, Sree Suryamangalam Bagalamukhi Devi Temple, and Thiruverkadu Devi Karumariamman Temple.
Cheap flight bookings to India is not an issue when it comes to booking flights to India. So, finalize a destination and get ready to experience India like never before.